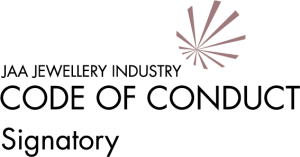 EverettBrookes are a premium Australian jewellery store and we are committed to excellence in retailing. Customer satisfaction is an integral part of this commitment.
EverettBrookes will endeavour to make to agreed specifications where practical however bespoke jewellery has a degree of artistic balance built into the design. This may result in subtle differences occurring during manufacture. This is generally considered acceptable for hand made jewellery.
REFUNDS AND RETURNS
We are not required to provide a refund or replacement if you change your mind.
You can choose a refund or exchange if an item has a major problem. This is when the item:
Has a problem that would have stopped someone from buying the item if they had known about it
Is unsafe
Is SIGNIFICANTLY different from the sample or description
Doesn't do what we said it would or what you asked for and can't be easily fixed.
If the problem is not major we will repair the item within a reasonable time, If it is not repaired in a reasonable time you can choose a refund or replacement.
Please keep your proof of purchase.
SPECIAL ORDER TERMS AND CONDITIONS
Special orders are subject to a deposit up to 75% of the purchase price. The balance is payable upon collection of goods.
Cancellation due to change of mind is subject to a 50% cancellation fee. High value items subject to negotiation.
DIAMOND PURCHASES
All feature diamonds are ordered specifically for your purchase.
Your deposit is your commitment to purchase. A bespoke jewellery commission may be cancelled however the diamond purchase agreement remains intact and is not refundable.
LAYBY AGREEMENT TERMS AND CONDITIONS
The ownership of the layby items will not pass to the consumer until the total price has been paid and the terms and conditions of the layby contract has been fulfilled.
This contract is subject to an initial deposit, subsequent regular payments and a maximum layby period as specified below.
Should the consumer fail to make payments when they fall due or meet any other conditions of the layby contract the contract will be deemed cancelled by the consumer.
It is the responsibility of the consumer to inform the retailer of any change of address or contact details.
Layby Cancellation by the Consumer
A consumer can cancel the layby agreement at any time before delivery of the goods. In such cases the retailer must refund all amounts paid by the consumer, less a 10% layby cancellation fee up to a maximum of $200.
If the consumer's layby payments do not cover the termination charge, the retailer can recover the outstanding amount as a debt.
Layby Cancellation by EverettBrookes
EverettBrookes can only terminate a layby when:
The supplier is no longer engaged in trade or commerce or
The goods are no longer available due to circumstances outside the retailer's control.
If EverettBrookes cancels the layby agreement there is no termination fee.
Laybys of more than one item can be separated only if full payment for the item/s handed to the consumer have been received and the appropriate deposit is still left on the remaining item/s.
DELIVERY POLICY

EverettBrookes ship all items next business day to anywhere in Australia.
All goods are shipped by secured, registered mail and all items are fully insured.
This is reflected in our Returns Policy and means that you can shop at EverettBrookes with confidence knowing that we can offer you repairs, exchanges and refunds. For your convenience, our merchandise may be exchanged the EverettBrookes retail store.
Please note that EverettBrookes has the right to assess the age and condition of returned goods prior to offering a repair or an exchange.